Now Offering
UNLIMITED Continuing Education Credit Hours
for only $179/year
Click Here
to learn more.


Have a question?
Read our FAQ!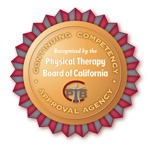 CEUs for PTs, PTAs and OTs
CEUs for Physical Therapists, Physical Therapist Assistants and Occupational Therapists
$9 per CEU Hour - Fast, Easy, Affordable CEUs! Start Here
Take your CEU exam before you pay - 6 chances to pass
2 FREE CEUs in Aging and Nutrition
Instantly access your CEU Certificates
Free Access to all CEU course material and CEU Exams
2 - 3 New CEU Courses added each month
What Kind of Online CEU Courses are Offered?
We offer CE contact hours in the following continuing education categories:
Newest Online Continuing Education Courses